Abraham Hildebrand (1748-1833), my 4th great grandfather on my grandfather Clifford's mother's side.
Abraham Hildebrand, born about 1748 in Pennsylvania, married Anna Schantz. She was the daughter of Jacob and Mary Schantz, who were active in the (Swiss-German) Mennonite Church. The Hildebrands, were active in a sect of the Church of the Brethren known as Dunkards (Old German Baptists). It is guessed that Judge Abraham understood German and could read and write English by the later deeds he signed and by his capacity as judge: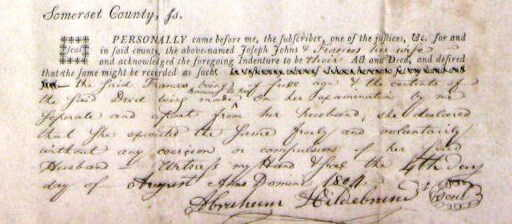 The 1777 non-associators record meant Judge Hildebrand was not in the Revolutionary War and chose to be non-associated due to his religious beliefs as a Dunkard – a Peace church.
It is believed that Johannas Hildebrand may have been the father of Abraham Hildebrand. Johan, before the age of sixteen, arrived in Philadelphia, Pennsylvania on September 24 1734 on the ship St. Andrew. He was discovered as a stowaway passenger. He had apparently run away from home to follow his older brothers to the Americas, which is why he was listed on the Ship's manifest as cargo. After being discovered he was forced to work on the ship as an indentured passenger to pay for his fare and was released with his brothers upon arriving in Philadelphia
John Dewatt Weimer (1740-1831) My 5th great-grandfather, my 4th great grandfather on my grandfather Clifford's mother's side.
John and his brothers Martin and Frederick immigrated to America from Germany in the 1760's.
He served as a corporal in Captain John Riley's Co., Third Pennsylvania Continental Line in 1778-79 which was at Valley Forge with George Washington. He was twice listed as having "Insufficient clothing" at Valley Forge. His name is sometimes recorded as Wimmer, Wymer or Wemmer..
After the Revolution, John, his wife Susanna Ackerman, and their family settled in Somerset County where he was granted 336 acres of bounty land in Milford Township. He received title to his land on Feb. 26, 1788 and named it "Prospect Hill."
Hackler & Delp, (Hechler & Delph) On my grandma Clifford's paternal side.
Johann Georg Hechler (1743-1821) arrived at age 11 with his parents, Hans Georg Hechler (originally from Alsace) and Susanna Müller, in Pennsylvania in 1754. They lived in Manchester Township in York County, Pennsylvania and were members of Quickel's Lutheran Reformed Church. He married Elizabeth Peter in 1770 and moved to Elk Creek, Grayson County, Virginia in the Blue Ridge Mountains, sometime in the early 1780's.
His son Peter Hackler was married to Mackalana "Molly" Delp, daughter of Peter Delp and Eveline Reichbacher. Peter Delp's parents were Hans Georg Delp and Barbara Moyer. Hans Georg Delp (1708-1773) immigrated to Pennsylvania in 1738 and settled in Montgomery County. Although many genealogies list Peter Hackler as being born in Grayson County, Virginia, it is unlikely since his parents stayed in Pennsylvania.
Not much else is known about these families, except that they were very prolific. I have confirmed my mom having 396 DNA matches with Delp shared ancestors and 213 matches with Hackler shared ancestors. The Delps are second only to the Cornetts. Some matches are descended from Cornetts, Hacklers AND Delps, with some who also descend from Russells and Stampers, too! …Many descend from both due to siblings of one family marrying siblings of the other family.
The Baughers– Johannius Georgius Bager (1725-1791), my 6th great grandfather, on my grandma Clifford's maternal side.
It appears that most, if not all, Baughers in the United States are descendants of Johannius Georgius Bager and Anna Elizabeth Schwab. They were married in Giessen, Darmstadt, Germany in 1748 and sailed to America on a ship called the "Rawley" in 1752. The "u" and "h" were added to the Bager name upon arrival in North America (Many various pronunciations of Baugher are found among descendants.) Johannius Georgius Bager was educated at the University of Halle (This is the same university that my famous ancestor Barthold Heinrich Brockes on my dad's side went almost 50 years earlier.) Bager was ordained and installed at Simmern, Germany, in the month of December 1749. He was sent to be a pastor of the Lutherans in Pennsylvania, December 16th, 1752. Shortly after arriving to America with his wife and son, he became the pastor of St. Michael's, an old log church along the Carlisle Pike, near Hanover, PA. He made many ministry tours helping to establish more than one hundred churches in Baltimore, Maryland, and several Pennsylvania Counties.