I knew in the course of genealogy research that I had run across some ancestors that were slave owners and some that had come as bonded servants. I don't often look so far back in my tree because it gets too overwhelming, unless I am researching a particular topic.
My dad's grandparents all immigrated to the U.S. in the late the 1860's & 1880's and settled in Iowa, which was admitted to the union as a free state in 1846.
On my mom's side, I only found a couple of my ancestors who enlisted during the Civil War. None of them appeared to have served for very long. See Ancestors in the Civil War.
My mom's grandparents all settled in Kansas after the Civil War. In Kansas the slavery issue had been hotly contested and there many were settlers from both the North and the South. Most of these men died fairly soon after moving to Kansas leaving behind their widows and children to carry on the homestead. I will look at each of these lines for evidence of slavery in their ancestry.
William (1808-1877) & Mary Ann Clifford came from Pennsylvania via Indiana in 1871.
Richard (1837 KY-1899) & Sarah Verbryck, from Indiana btwn. 1870-1875
Hezekiah (1838-1891, consumption-TB) & Elvira Cornett from Virginia via Missouri about 1883
James (1839-1872 ) & Emily Woodrum, from Illinois btwn. 1865-1868
As we trace their lines back most were farmers some had very nice homesteads, but I have to go quite a ways back to find any evidence of slave ownership.
The Clifford Line:
Our earliest Clifford in the New World, James Clifford, my 5th Great-Grandfather, died 11 Jan 1782 • Bethlehem Township, Hunterdon, New Jersey, USA. He lists negroes as well as horses, cows and sheep in his 1790 will. (His son Charles, my 4th Great-grandfather, who had moved to Pennsylvania, had been taken captive by Indians the year before this will was written and was subsequently traded to the British in Montreal, where he was held for another 2 1/2 years. that is perhaps why just his son is listed.) :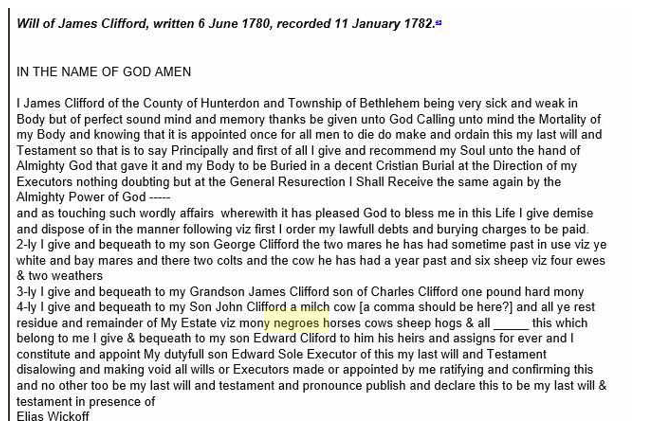 Apparently in Pennsylvania, a 1780 abolition act required that the children of slave mothers to be born free. Thereafter there was a sharp decline in slave ownership in Pennsylvania. Many Pennsylvania masters freed their slaves in the first two decades after the Revolution:

Others in the Clifford Line: William Clifford's mother, Catharine Lawson was born in Ireland; her father was a ship's captain, who bought land and then brought his family to live in Pennsylvania. His wife's father, Robert Irwin was a shoemaker in Pennsylvania whose father possibly also came from Ireland. His wife's mother, Dorcas Decker descended from some of the earliest settlers in the New Netherlands. I found no specific reference of slave ownership in this line but found this reference in Wikipedia:
"Slavery in New Jersey began in the early 17th century, when Dutch colonists imported African slaves for labor to develop their colony of New Netherland. After England took control the colony in 1664, its colonists continued the importation of slaves from Africa. They also imported "seasoned" slaves from their colonies in the West Indies and enslaved Native Americans from the Carolinas. Most Dutch and English immigrants entered the colony as indentured servants, who worked for a fixed number of years to repay their passage. As conditions in England improved and the number of indentured laborers declined, New Jersey's colonists imported more Africans for needed labor. To promote increasing the number of laborers and settlers in order to develop the colony, the colonial government awarded settlers headrights of 60 acres (240,000 m2) of land for each person transported to the colony."
The Verbryck Line:
The 1830 Census shows Richard Verbryck's father, William Verbryck as having one slave. There is none listed on any other census: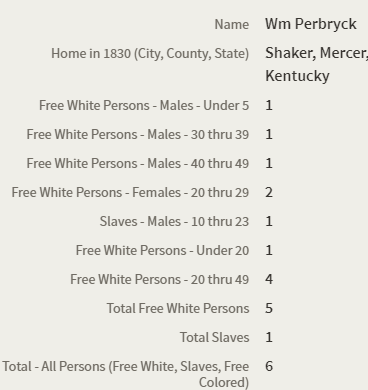 William Verbryck was originally from New Jersey and also descends from Dutch New Netherlands colonists.  As above…I did not find any more specific evidence of slave ownership.
Richard Verbryck's wife, Sarah Hildebrand, descended from German immigrants. Her grandfather, Judge Abraham Hildebrand, was a German Baptist/Dunkard, his wife Anna Schantz was a Mennonite. Sarah's mother's family, the Weimers, were also children of German immigrants.
"By the mid-18th century, it appears few Pennsylvania Mennonite farmers owned slaves. Their preferred source for supplemental labor was through indentured servants, often poor immigrants paying off their passage to North America through work… there were some Mennonite slave owners…The reticence to own slaves does not mean that Mennonites were active abolitionists. Unlike the Quakers, who originally owned quite a few slaves, Mennonites were never significant slave owners. "
Here is the census record for Abraham Hildebrand. Notice it lists 8 under the category "All other persons except Indians not taxed." –Indentured servants were supposed to placed in the 'Free White" category and Slaves and Free Colored are in another category, so I am not sure who falls into this category??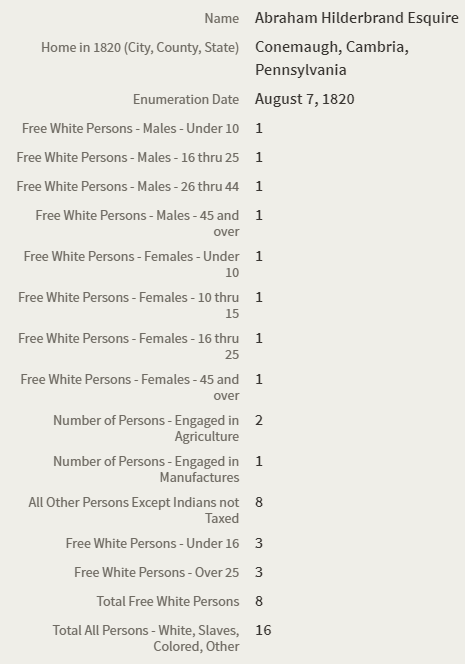 From the Abstracts of South Central Pennsylvania Newspapers, 1785-1790, Family Line Publications, Westminster, Md. Pg. 43: "Abraham Hildebrand, near Chambersbough, offers reward for apprentise lad named William Wall, by trade a mill wright, about 20 years of age, near 6 ft. high, black hair, pale complexion, walks very loose throwing his shoulders about–"I have good grounds to believe that a certain John Eaker, of German descent, a miller by trade, advised the said apprentice to run away, as they went off together. " Said Eaker is about 5 feet S or 6 inches high, about 20 years old, smooth faced, speaks broken English."
Apprenticeships were often just another form of indentured servitude with the stated purpose of learning a trade:
"Growth of Apprenticeship in the Middle and New England Colonies: While indentured servitude through migration decreased gradually, the number of children born to the colonists in America increased. It became common practice in the Middle and New England colonies for all but the rich, and perhaps the very poor, to have children learn to make a living either from their parents or through a traditional apprenticeship to a master craftsman. The primarily Protestant parents would try to have their children apprenticed to a trade that was stable, and would provide them with a reasonable living. 
Because of this, highly skilled trades were very competitive and might come very dearly… Oftentimes, local officials decided the fate of children by involuntarily binding them into an indenture. Many children would become apprentices at around the age of fourteen and serve a master craftsman for up to seven years. During this time, the apprentice would learn the trade secrets that his master used, often referred to as the "mysteries" of the trade."–From "The Education of Indentured Servants in Colonial America, By Mark R. Snyder
Richard Verbryck's Mother, Sarah Holt, was born in Mercer County, Kentucky. Her parents were from Virginia & North Carolina.
Although I have not confirmed the identity of her parents, DNA cousin matches suggest that she probably descends from Plunkett Harraway Holt b. 1689 • Rappahannock County, Virginia, USA. This is from one source at Ancestry.com:

The Cornett Line:
The Cornett's lived in Grayson County, Virginia in the Blue Ridge Mountains, which borders North Carolina. They were hardy Mountain men and women. Few in that area owned slaves, if they did, it was usually only 1 or 2. I can find no evidence that my 2nd Great-grandfather Hezekiah, or my 3rd Great-grandfather Alfred owned any slaves, although they both enlisted in the Confederate Army. (See Ancestors in the Civil War.); nor my 4th Great-grandfather Reuben Cornutt.
In the next generation back, my 5th Great-grandfather, David Cornutt, apparently had one slave. He had a free black listed on one census (1830) and one slave listed in the next (1840) –(The previous census (1820) listed "All Other Persons Except Indians not Taxed–3"–I still can't figure who falls into this category! His son, Reuben also had 8 "other persons" in 1820.)  :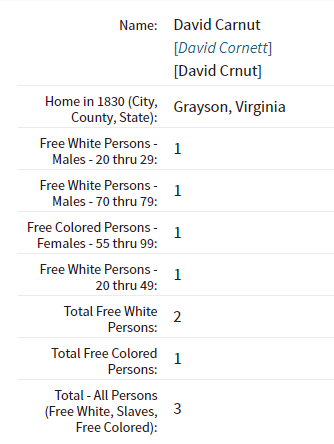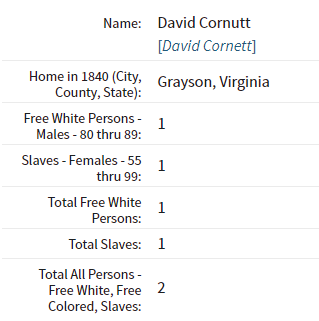 Of David's father, James Canute/Cornett, I found the following source:  "The elder James Cornett was certainly deceased by July 1797, when his estate was inventoried by William Grayson, William Godbey, and Robert Carren (Montgomery Co, VA Deeds, Vol B). His estate included one female slave and her child (valued at £100), four head of sheep, 2 horses and a mare, cattle, hogs, a list of tools and sundry household items, hides, some kitchenware, and spices.—James Cornett appears to have been the son of John Cornett who settled in Henrico County, Virgina ca. 1733.
Some Cornett histories claim that there were 7 Cornett brothers that came as bonded servants to the U.S., but there appears to be no conclusive evidence for this :  "…John, Roger, George, Francis, Frank, Jesse, and James. John Cornett was born in Southampton, England in 1727. In 1740, he sailed to the Colonies with six of his brothers. They worked as indentured servants on an English lord's farm near Philadelphia, PA…" –It is unclear whether this has any basis in fact…
My 8th great grandfather, William Angella, died about 1769 in Cumberland, Virginia. In his will, he leaves one negro man named Peter to his son Joseph: