Family names or surnames are a relatively recent invention (within the last 300-1000 years). Surnames  began to be adopted to either show an association to a particular clan or as a requirement for legal transactions. Kings began to require their subjects to adopt a family name, either to clarify their associations or loyalties, or for ease in record-keeping for the purpose of tax rolls.
Often names were a variation of "son of" as with the Scottish & Irish "Mac" & "Mc" — example: MacDonald: son of Donald. The Welsh used the prefix "Ap. " Many Welsh names now begin with P because names dropped the "A" — example: ApRichard became Pritchard.
In Ireland, if a grandfather or other ancestor was more distinguished than a father, the prefix O' was used instead, as in O'Brien; descendent of Brian Boru (941?-1014), the first High King of the Irish, who is credited with ordering the adoption of hereditary surnames. The "O" was often later dropped–example: O'Kelly became just Kelly.
In Scandinavian countries, the suffix "son" or "sen" was added to the father's name as in Johanson– Johan's son.
I noticed my Frisian (and some of the Dutch) ancestors, simply added an "s" to the father's name, for example: Eilerts, son of Eilert. Often, the patronymic was still used as a middle name after surnames were adopted (even for the daughters). Some of my Schleswig-Holstein ancestors also added just an "s" after the name, ie. Reimers, Hinrichs, Martens, etc. Perhaps that is why the surname Brockes got changed to Brocksen before or after my great grandmother and her brother immigrated to America?
Names could also have been chosen or attached to a person for any of the following:
Occupation or rank; ie. Baker, Gardner, Smith.
The location where they lived or came from.
Personal peculiarities or attributes/ Physical characteristics; ie, Brown, Short, Swift, Wise.
Animals totems, plants, minerals or other natural objects; ie. Fox, Lamb, Wolf, Moss, Clay, Silver.
Parts of the body, ie. Beard, Foote.
Seasons/ points of the compass, ie. Summers, Winter, North, West.
Other manmade objects/buildings, ie. Church, Ferry.
Names often changed through the generations, especially when people immigrated to lands with a different language, or when a land was conquered by foreign empires. Celtic names were anglicized when Britain subjugated Ireland. Difficult names were sometimes changed by immigration officials when people arrived to the United States. People sometimes changed their names purposefully to escape their past. Names could be spelled variously, especially when the bearer was illiterate or coming from a country with a different language or alphabet.
Here are some of the names in my tree.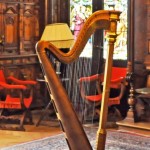 Arps–North German, Dutch, and Danish, the patronymic from the personal name Arp, derived from Middle Low German erp or 'dark brown.'–the most likely definition. Erbes is another form; interestingly, Erbe means heir in the German dictionary. Another source claims that it is derived from harp, a much more musical definition! My 2nd Great-grandmother, Anna Catharina Arps Reimers (1821-?) lived in Schleswig-Holstein. –D5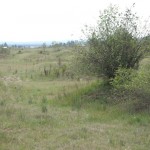 Auen— water meadow or pasture.  It appears to be a common place name in Germany. My great-grandmother Ida Auen (1864-1951) immigrated with her parents, Eilert & Jantje Auen, and her siblings from East Friesland in northwest Germany in 1868 when she was about 4 years old. The family settled first in Grundy County Iowa in Iowa then in Carroll County, Iowa. –D4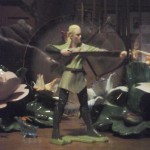 Auger–French and Norman English from the Old French personal name Auger or Alger. German: variant of Auer, (the g reflecting Frisian origin.) –from the old German name Adalgar, or "Noble Spear" or "Elf Spear." Also spelled Augé & Haugé. My husband's 9th great grandfather, Pierre Auger, immigrated to Quebec from France sometime in the late 1600's. –E4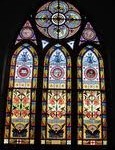 Baugher/Bager–Baugher is an Americanized spelling of the German name Bager, presumably to more closely match the German pronunciation. My grandmother thought it was pronounced "Bah-her," more likely it was "Bahg-er" with a slight guttural g-sound. According to ancestry.com, Beger is from bagen 'to quarrel', or 'to pride oneself', hence a nickname for a quarrelsome or boastful person. I thought, however, that Bager probably meant baker, which it apparently does in Danish. The first immigrant, my 6th Great-grandfather, Johannus Georgius Bager, a Lutheran minister, came in 1752 to serve Germans in the new world. He had studied theology at the University of Halle. He is credited with founding over 100 churches in  in several Pennsylvania counties and in Baltimore, Maryland. Most Baughers in the United States appear to descend from him and his wife, Anna Elizabeth Schwab. –D5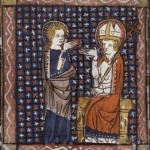 Bressette/Brissett–French "Little Brice."–B1
Click on the link to get a more complete analysis.
.
.
Brocksen/Brockes–North German–the meaning is unclear, possibly Brook or "Brauk"  a marshy landscape as is common in Schleswig-Holstein (most likely). The German Dictionary defines brocken as n. a lump or chunk or v. to break—so perhaps "a chip off the old block?"–a stout or strong man (South German).  "Brock" a nickname for a person resembling a Badger (Old English) or young stag (French). –D4
.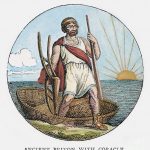 Britt/Brett–"English: ethnic name for a Celtic-speaking Briton or a Breton, from Middle English brit, bret."–D6
.
.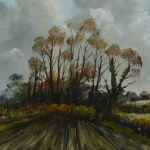 Büscher–"topographic name for someone who lived near a copse, from Middle High German busch 'copse'" or "North German: occupational name for a butcher, from Middle Low German buscher 'non-guild butcher or meat retailer'"–D6
.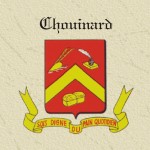 Chouinard–French: nickname from a diminutive of cho(u)e 'jackdaw' (a small, black and gray bird in the crow family) + the pejorative suffix -ard –according to ancestry.com.  Other sources —one who baked and sold white bread –"spicy white bread with exquisite taste and mouth-watering aroma". My husband's 7th great grandfather, Jacques Chouinard immigrated to Quebec from Touraine, France about 1685. –E4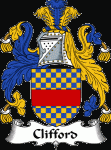 Clifford—Old English "ford by a cliff."–D2
Click on the link to get a more complete analysis.
.
.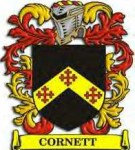 Cornett/Cornutt/Canute—thought to have been a descendent of the Danish King Cnut, but more likely middle English/Old French for a hornblower or someone who works with horns or antlers. –D3
.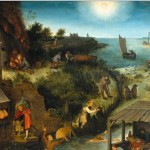 DeBuhr/DeBoer–North German/Dutch: occupational name or nickname for a farmer, from the Low German definite article de + buhr or boer 'peasant' or 'farmer. Also 'neighbor,' derived from an occupant of a bur, a small dwelling or building. Similar to the English bower. My Great-great grandmother, Jantje DeBuhr Auen (1829-1911) came from East Friesland in Germany in 1868. –D5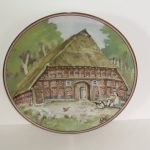 Decker–"German: occupational name for a roofer (thatcher, tiler, slater, or shingler) or a carpenter or builder." D6
.
.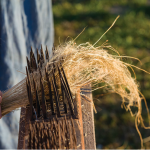 Hackler/Hechler–"German: occupational name for a comber of flax, from an agent derivative of Middle High German hechel, hachel 'hackle', 'flax comb'." The name changed from Hechler to Hackler sometime when the family moved from Pennsylvania to Virginia, ca. 1800.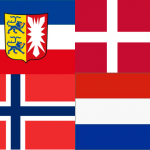 Hansen–"Hansen is a Danish-Norwegian patronymic surname, literally meaning son of Hans. It is the third most common surname in Denmark, shared by about 4.3% of the population."  Also Dutch and North German.
.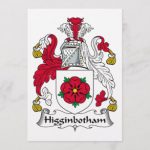 Higginbotham–"English (Lancashire and Yorkshire): habitational name from a place in Lancashire now known as Oakenbottom. The history of the place name is somewhat confused, but it is probably composed of the Old English elements … 'oaken' + botme 'broad valley'. During the Middle Ages this name became successively Eakenbottom and Ickenbottom, the first element becoming associated with the dialect word hicken or higgen 'mountain ash' or the personal name Higgin." or  "is derived from a geographical locality. 'of the Higginbottom,' a small spot… obsolete titularly, in the neighbourhood of Marple and Macclesfield, in East Cheshire. The meaning is the bottom, or hollow deprei lion in the land, where Higgin or Hickin resided"–D6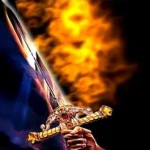 Hildebrand–"Battle Sword"–from a German personal name derived from the elements hild: 'strife' or 'battle' and brand: 'fire or flame (as in a Forge)' or 'sword' (Interestingly, of the same derivation are: a firebrand, one who kindles strife;  and brandish, as in brandishing, or waving about a sword.) The earliest Hildebrand in our line is thought to have been Johannes Hildebrand, who apparently stowed away to follow his older brothers to America in 1734.  Thought to be his son is my 4th great grandfather, Judge Abraham Hildebrand (1748-1883), who was an important member in the Church of the Brethren in Pennsylvania. My Great-great grandmother, Sarah Hildebrand Riggs, married Richard Verbryck after the death of her first husband to Cholera. –D5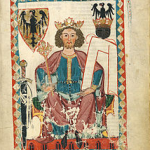 Hinrichs–"Dutch and North German: patronymic from the personal name Hinrich"  "Heinrich, composed of the Germanic elements haim, heim 'home' + ric 'power' " or ruler of home.–D6
.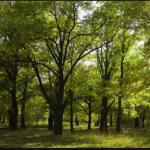 Holt–English, North German, Danish, and Norwegian: topographic name for someone who lived in or by a small wood or grove of trees. D6
.
.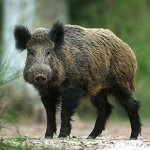 Irwin—"Boar friend" –Northern Irish, Scottish, and English: 1) Old English: Eoforwine, composed of the elements eofor 'wild boar' + wine 'a friend.' or 2) Scottish: a location name, from the town of Irvine from ir or yr, 'fresh' or 'green' plus afon, 'water.'  3) Irish from the Gaelic name O' hEireamhoin.  The website clanirwin.org  lists about 240 various spellings of the name. I have found it spelled or transcribed in indexes as Irwin, Erwin, Grum, Ervwn, Irwine, Trwin, The first Irwin that we know of in the new world is my 4th great grandfather, Edward Irwin (abt 1762-1845), possibly born in Ireland. His son, Robert was a shoemaker in Pennsylvania and father to my great, great grandmother, Mary Ann Irwin Clifford. –D5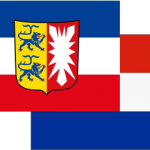 Jans–"Dutch and North German: patronymic from the personal name Jan; or a reduced form of Johannes." –equivalent to Johnson.–D6
.
.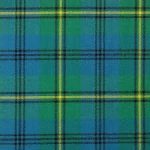 Johnston–A habitational name, from the personal name John + Middle English tone, toun (town) 'settlement' (Old English tun), originating in most cases from the place so called in Annandale, Dumfriesshire, Scotland. –D6
.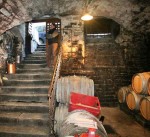 Keller–From the German for cellar. An occupational name for the keeper of the stores. Kellers were important as trusted stewards in a great household. My husband's great-grandmother's family were ethnic Germans from Alsace. They lived in Odessa, Ukraine 'Little Russia' for several decades before settling in North & South Dakota.–E4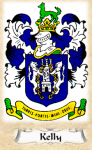 Kelley/Kelly–Irish Gaelic, from Ceallaigh, warrior, or 'bright or white-headed (or haired),' later 'frequenting churches' (Irish ceall).–D1
Click on the link to get a more complete analysis.
.
.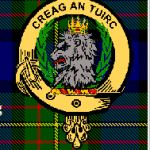 Lawson/McLaren—Lawson: Scottish and northern English: patronymic from Law or Lawrence. Our Lawsons came from Donegal, Ireland. One source claims "The family name apparently was originally McLaren, but family tradition has always said the Lawsons were not originally from Ireland or Scotland, but from the Isle of Man. " McLaren: "Scottish and northern Irish: Anglicized form of Gaelic Mac Labhrainn 'son of Labhrann', Gaelic form of the personal name Lawrence." D6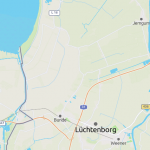 Lüchtenborg–Is a place name, a town in the East Friesland region of Germany. I believe it means city of  air/wind.–D6
.
.
McKettrick–Irish/Scottish, in Gaelic the name is spelled Mac Shitrig, 'son of Sitric' from the Norse personal name Sigtryggr, for 'true victory' or conqueror. which is composed of the elements sigr 'victory' + tryggr 'true'. Another source said that 'sitric' means sword or knife in Norse. McKittrick is another spelling of the surname. My Great-great grandmother Mary McKettrick Kelly lived in Ireland. I have been unable to trace the line further back. –D5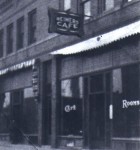 Reimers–German, from Reinmar or Reginmar or "famous councilor." Reimer also means 'rhymer' according to the German Dictionary. Our family came from Schleswig-Holstein and eventually settled in Holstein, Iowa where my great grandfather owned a café, saloon & boarding house.–D3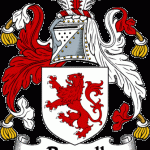 Russell–"This is one of the most famous and noble names in British history since the Conquest of 1066, when it was a Norman introduction. The name is a diminutive patronymic and means "the son of Red", from the Old French "Rous", red, a nickname for someone with red hair, and "-el", little."–D6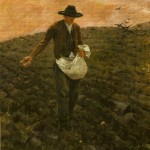 Sammann–German. House of Names claims that the Anglo-Saxon name "comes from the baptismal name for son of Solomon." The German Dictionary gives the meaning of Sämann as sower, which I think is more likely. Elsabea Margaretha Sammann (1833-1915) was the mother of my great grandmother, Marie Brocksen Reimers. She stayed in Schleswig-Holstein.–D5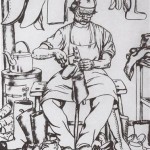 Schumacher–German, 'Shoemaker.' My husband's grandmother's family originally came from Württemberg in southwest Germany. They lived in Odessa, Ukraine 'Little Russia' for several decades before settling in North & South Dakota.–E3
.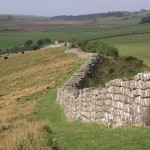 Scott— One of the most common Scottish surnames, A clan from the borderlands between Scotland & England. My husband's grandfather was adopted by a Scott, whose roots go back to Michigan, Ontario, Pennsylvania & Yorkshire, England–E2
.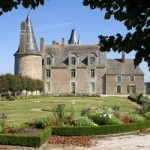 Sevigny–Altered spelling of French Sevigné– from a place in Ille-et-Vilaine, in Brittany, France. The name was derived from the Gallo-Roman personal name Sabinius, a name borne by several early saints. The Sabines were an ancient Italic people of central Italy. According to legend, Romulus arranged for the mass kidnapping of the Sabine women to provide wives for the citizens of Rome. My husband's grandmother, Juliette (1912-1968) was raised by nuns in a parish orphanage in Montreal and immigrated to the New York about 1927. His 7th great grandfather, Julien Charles Sevigny (1668-1727), immigrated to Quebec some time in the late 1600's.–E3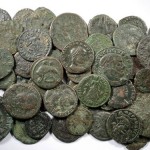 Stamper–Most agree that the name is a Middle English occupational name for a worker in a mint; someone who "stamps" designs on coins or other metal items. Related names can be found in French, "Etampes" (also a place name) and German, "Stampfer." Another possible meaning is given as "treader of grapes." My Great-great grandmother, Elvira Stamper Cornett was born in 1878 in Grayson, County, Virginia. She lived through the Civil War, came with her husband and children to Missouri, and then to Greenwood, County, Kansas. Many years after her husband's death, she moved to Los Angeles County, California where she died in 1934. Our first Stamper ancestor was my 8th great grandfather, John Stamper (1647-1690). He came from England sometime in the mid to late 1600's, settling in Middlesex, Virginia.–D5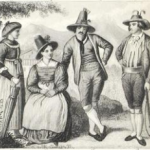 Thode–"North German, Frisian: from a pet form of a Germanic personal name formed with Old High German theud or diot 'people', 'tribe' as the first element."–D6
.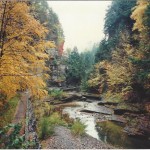 Verbryck–Dutch, probably "Far Brook."–D4
Click on the link to get a more complete analysis.
.
.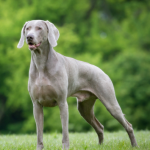 Weimer–from a Germanic personal name composed of the elements wini 'friend' or wig 'battle', 'fight'+ mar 'famous..so famous friend or famous fighter? or "One who came from Weimar (soft swamp), in Thuringia; descendant of Wigmar (fight or sanctify, famous); dweller on, or near, church property." D6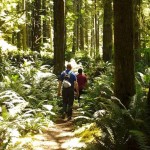 Woodrum–English, probably "Wood Gypsy."–D4
Click on the link to get a more complete analysis.
.
.
Key:
E-Edmund
D-Dana
1 1st generation (Dana's maiden name)
2 2nd generation (mother's maiden name)
3 3rd generation (grandmother's maiden name)
4 4th generation (great-grandmother's maiden name)
5 5th generation (2 great-grandmother's maiden name)