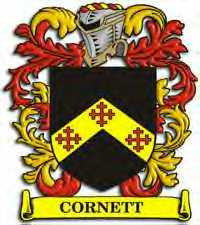 Family lore claims that our Cornetts, Cornutts, and Canutes, descend from King Cnut, a Danish Viking prince who won the throne of England in 1016.  Cnut ascended to the Danish throne in 1018 and claimed the crown of Norway and part of Sweden in 1028.  His mother was daughter of the first Polish King.  His only legitimate son was Harthacnut by Emma of Normandy; After his death, Harthacnut's throne reverted to his half-brother, Emma's son, Edmund the Confessor.  After the death of Cnut's heirs and the Norman conquest of England in 1066, his achievements were largely lost to history.  The lack of known living progeny brings the claim of descent from Cnut into question.
Cornett is usually thought to be an occupational name for a hornblower or someone who works with horns, derived from the Latin, Cornu, or Middle English or old French, Corn, meaning horn (or antler).
Cornett, Cornutt, Canute Ancestors:
Erin Cornett was born in 1676 in Northumberland, England; he raised sheep.
His son, Earl, was born in Southampton, England in 1696; he was a farmer.  Earl had seven sons: John, Roger, George, Francis, Frank, Jesse, and James. John Cornett.   In 1740, the brothers sailed to the Colonies. They worked as indentured servants on an English lord's farm near Philadelphia, PA.
Our line appears to be descended from either John or James, but there are conflicting pedigrees showing different lines of descent and I haven't puzzled out which is likely to be most accurate.
Our Cornetts/Cornutts settled in Elk Creek, Climes Branch, Grayson County Virginia; they were very prolific.
Hezekiah Cornutt, my Great, Great-grandfather,  enlisted in Company C, 63rd Infantry 63 Virginia (McMahon's Regiment.) on 6 May 1863.  He deserted on 1 Jul 1863 at Saltville, VA.  (For more information see Ancestors in the Civil War.) Hezekiah moved his family to Bates County, Missouri, where his son, John was born.  They were supposed to have travelled to Greenwood County, Kansas by covered wagon.
The name has been found variously spelled (or transcribed in indexes): Cornett, Cornutt, Canute, Cornette, Carnett, Carnut, Connett, Comette, Bornett.