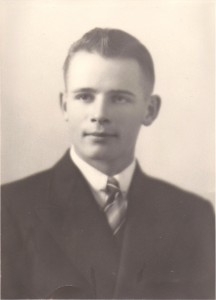 The Remarkable Story of
(1923-1990)
(It is a fairly large PDF file. It may take a little while to load, depending on the speed of your connection.)
*DNA evidence confirms that Mildred K Bearns (1905-?) was the biological mother of Oren Scott. She was the daughter of prospector, Thomas Charles Bearns (sometimes Brown), and Bridget Agnes Keating.
Her parents were originally from St. John's Newfoundland (her father of English heritage, her mother of Irish heritage).  They were married in Victoria, British Columbia, where their oldest daughter was born. They returned to Newfoundland where two of their sons were born. Mildred and another son were born in Capetown, South Africa. Another daughter died there.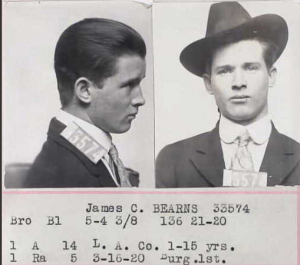 Bridget Keating Bearns passed away in Prince Albert, Saskatchewan. Leaving 5 small children in the care of her husband. The family moved to San Diego where Thomas Bearns remarried. The 2 older boys (Earl Joseph & James Cecil) got in trouble with the law for theft, burglery, and highway robbery. They appear to have eventually turned their lives around. The oldest boy joined the Maritime service. The next oldest married and had 3 children.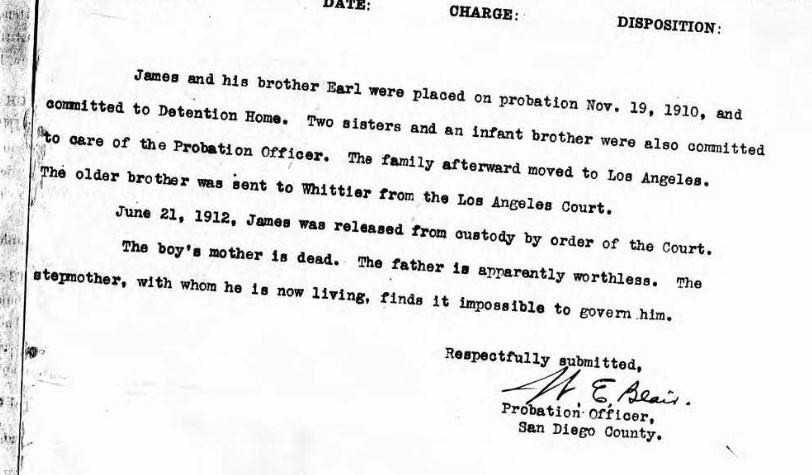 Thomas Bearns separated from his 2nd wife and moved with his daughters (Alice M & Mildred Kathleen) and youngest son (Francis Aden) to Tacoma, Washington. His youngest son also served time at Monroe Reformatory, the Oregon State Penitentiary and the McNeil Island Penitentiary for burglary and theft. (He was eventually deported to South Africa after Canada refused to take him.)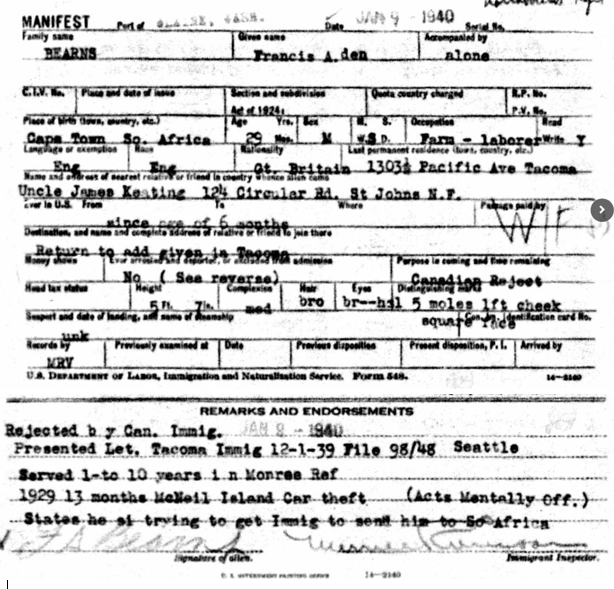 Thomas Bearns, the father, a fuel dealer, died in 1956 in Tacoma. His oldest daughter also stayed in Tacoma. She married fisherman, Erik Johnson (later separated) and died in 1992.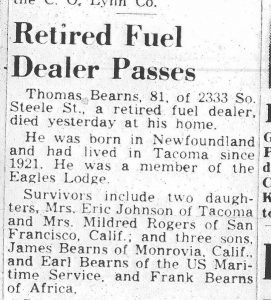 It is not known how Mildred ended up in Portland, but she was only 17 and living at 321 5th St. (Ave?) in Portland. She married Graham P. Henson, a Bellman at the Alder Hotel and a waiter at the Arlington Club. They married in Vancouver, Washington 4-5 months before Oren was born. DNA evidence confirms that he was not Oren's father. Mildred & Graham Henson moved to San Francisco. I have now discovered that they did have another child, Barbara Beverly Henson. I have been unable to find out more information on her. She might still be alive.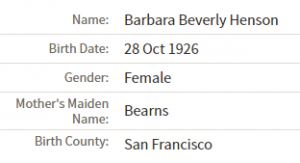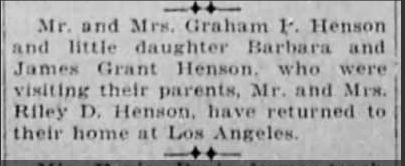 Mildred's father's obituary (1956) gave her last name as Rogers. Mildred K is listed in the 1954 San Francisco city directory with Gerald W Rogers. Graham Henson also remarried. His obituary lists 5 children. It is possible that the next oldest child was Mildred's, too, but I have been unable to find any information on him.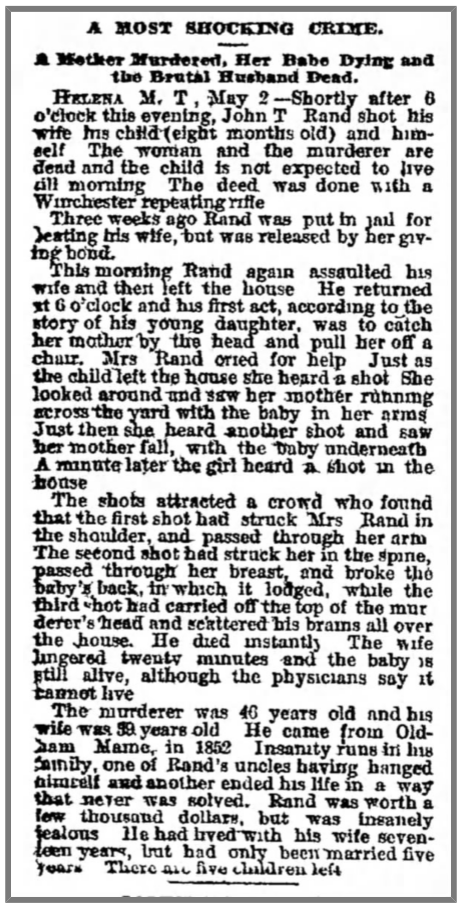 Due to DNA cousin matches, I have clear DNA evidence that Oren's biological father descends from the notorious Charles Napoleon Rand (also known as John T. Rand) a miner/teamster/dairyman, who killed his wife and baby and committed suicide in 1888 in Montana. (His family goes back to Maine; his wife's to Rhode Island & Connecticut).
In the light of newer DNA evidence, my earlier theory that Oren's biological father was a Canadian trucker by the name of Carlton Leonard Lundy (1905-?) is likely mistaken. (He was the only son of Alice Rand (daughter of Charles Napoleon Rand). If that theory was correct Pam should have been a closer match to a descendant of one of his sisters. (~~ the match showed only a 2% probability that they would be 2nd cousins.)
I now believe that the father was likely a son of one of NB Rand's older children, William Rand or Nellie Smalley. I have been unable to get more information from Pam's closest DNA match on this side (She passed an email on to her mom; who I keep hoping to hear from.) This match has several DNA matches, which Pam and Brad do not share with other Rand relatives. These matches mostly appear to descend from a Newman Fitts Cole (1773-1847) & Tryphena Little (1779-1838) from Connecticut & New York. I can't seem to make any connections to the spouses of these older siblings, however, or their mother. Given the age of their mother, I wonder if one or both had a different mother than the younger children.