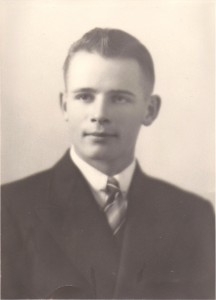 The Remarkable Story of
(1923-1990)
(It is a fairly large PDF file. It may take a little while to load, depending on the speed of your connection.)
*DNA evidence confirms that Mildred K Bearns (1905-?) was the biological mother of Oren Scott. She was the daughter of prospector, Thomas Charles Bearns (sometimes Brown), and Bridget Agnes Keating.
Her parents were originally from St. John's Newfoundland (her father of English heritage, her mother of Irish heritage). They were married in Victoria, British Columbia, where their oldest daughter was born. They returned to Newfoundland where two of their sons were born. Mildred and another son were born in Capetown, South Africa. Another daughter died there.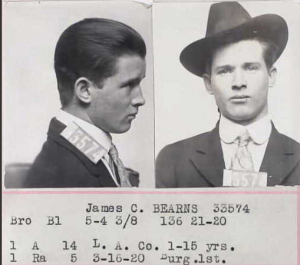 Bridget Keating Bearns passed away in Prince Albert, Saskatchewan. Leaving 5 small children in the care of her husband. The family moved to San Diego where Thomas Bearns remarried. The 2 older boys (Earl Joseph & James Cecil) got in trouble with the law for theft, burglary, and highway robbery. They appear to have eventually turned their lives around. The oldest boy joined the Maritime service. The next oldest married and had 3 children.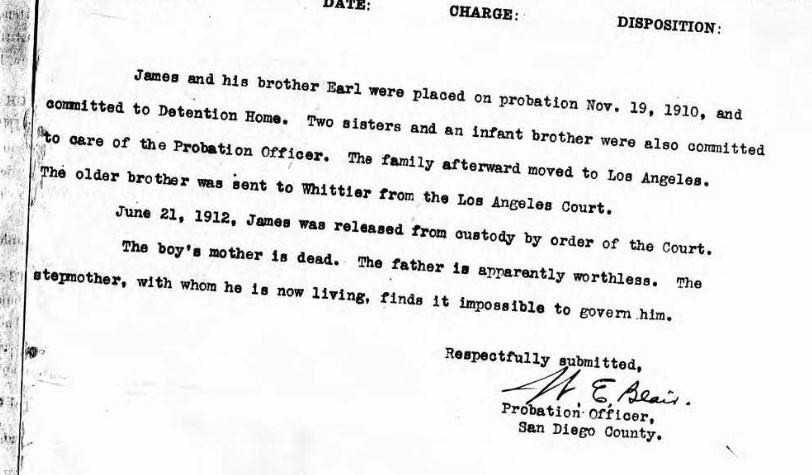 Thomas Bearns separated from his 2nd wife and moved with his daughters (Alice M & Mildred Kathleen) and youngest son (Francis Aden) to Tacoma, Washington. His youngest son also served time at Monroe Reformatory, the Oregon State Penitentiary and the McNeil Island Penitentiary for burglary and theft. (He was eventually deported to South Africa after Canada refused to take him.)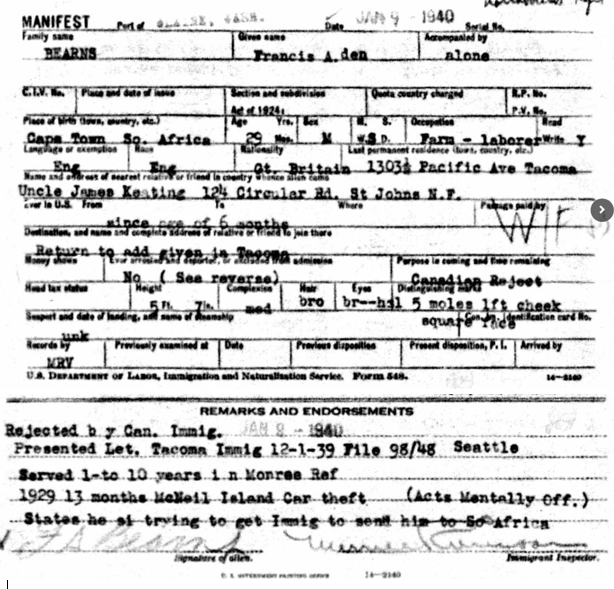 Thomas Bearns, the father, a fuel dealer, died in 1956 in Tacoma. He was buried in an unmarked grave in the New Tacoma Cemetery. His oldest daughter briefly married Albert Turner Stewart, 14 Jan 1922, a chauffeur at the Del Mae Joe Hotel in Portland, Oregon. They lived at 554 Ivon St. where Mildred was living with them. Alice returned to Tacoma and married fisherman, Erik Johnson (later separated) and died in 1992.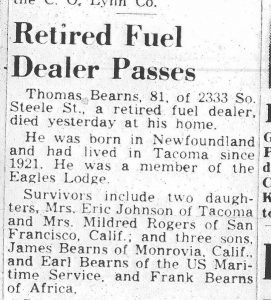 Mildred was only 17 and living at 321 5th St. (Ave?) in Portland when she married Graham P. Henson, 25 Sep 1922 , a Bellman at the Alder Hotel and a waiter at the Arlington Club. They married in Vancouver, Washington 4-5 months before Oren was born. DNA evidence confirms that he was not Oren's father. Mildred & Graham Henson moved to San Francisco. I have now discovered that they did have another child, Barbara Beverly Henson. Pam recently had a match to one of her sons and perhaps a granddaughter. I was able to confirm that Barbara married a man by the name of Clyde Edgar and had 5 children. She passed away in San Diego in 2014. Her father, Graham Henson, also remarried. His obituary lists 3 more children by his second wife, which mistakenly put a comma between Barbara and Edgar, making me think there was another son…but it was Barbara's married name.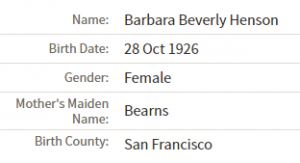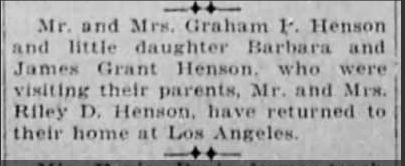 Mildred's father's obituary (1956) gave her last name as Rogers. Mildred K is listed in the 1954 San Francisco city directory with Gerald W Rogers. I have been unable to find a death record for her…there were several Mildred Rogers in California…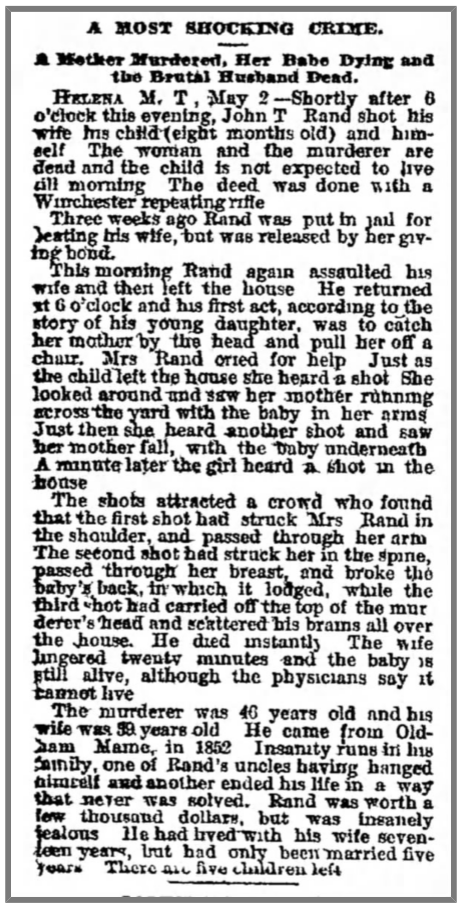 Due to DNA cousin matches, I have clear DNA evidence that Oren's biological father descends from the notorious Charles Napoleon Bonaparte Rand (also known as John T. Rand) a miner/teamster/dairyman, who killed his wife and baby and committed suicide in 1888 in Montana. (His family goes back to Maine; his wife's to Rhode Island.
I had believed for a long time (off & on) that Oren's biological father was a Canadian trucker by the name of Carlton Lenard Lundy (1905-1995) He was the son of Alice Rand, daughter of Napoleon B Rand.
Pam's closest match on this side is a Canadian from Victoria, B.C., which led me to focus on that son of Alice Rand. She wrote:
"Yes there is some Rands and Lundys in our genealogy. Without looking the names seem familiar. The Lundy listed, the dates I am unsure of. It was a Lundy I believe who made the newspaper as big news as he killed his pregnant wife. When he shot her in the back the bullet went through her killing her unborn child. I understand that he took his own life but I believe it was in the 1800's ... Will have to pull out what I have to verify. Nothing on any of the genealogy I have seen has included myself or any of my children.
Dad has told me of a relative in the states who was doing genealogy but he was an elderly retired dentist? who has now passed. I was asking dad to meet them, but no such luck.
Getting back to your original question I know there are Rands and Lundys but I am unsure if we are connected."
Alice Rand had a hard life. After her mother and baby brother were killed and her father committed suicide in 1888, it appears her older half brother was also abusive. In 1899, Alice married a man by the name of Alexander Touraille. In 1902, she divorced him after suffering abuse from him. Although she petitioned the court to award her custody of her son, the nuns kept custody of the boy. She married a Canadian, Charles Lundy, in January 10, 1903 in Umatilla, Oregon. Carlton was born Feb 8, (most sources say 1903) in Helena, Montana, which is less than a month after his parents were married. Hopefully her life got better for a few years before her death in 1913 from tuberculosis, at age 34. After her death, Charles Lundy moved his family, Carlton and 3 girls to Manitoba, where they were living in 1921.
Recently, I noticed a cluster of DNA matches in Pam's list, several of whom descended from Beelers in Montana…I could not figure out how they fit in until I looked at her brother, Brad's, DNA matches. When I looked at the same cluster in his list there were more that descended from Tourailles! They descended from children of Alice's 1st husband, Alexander Touraille. I later was able to determine that the Beeler matches were related on Alexander's mother's Accart side. So it is now clear that Oren's biological father was the child of Alexander Touraille & Alice Rand. Since his father, Alexander immigrated from France, there are few DNA relatives in the U.S. I did find one descendant of his niece and a passenger list when Alexander brought his son, Emile, from a prior marriage, and his niece to this country in 1909. (Alexander had originally had immigrated about 1894.)
Recent research shows that Louis Touraille (Tourallie) enlisted in the Marines on 1 Dec 1920, however he was injured and spent 19 Jan 1921 to 15 Aug 1921 in the hospital at the Mare Island Navy Yard in California. He was dismissed "for disability. not in line of duty, not own misconduct, Character: Very Good."
I next found a death certificate for him from Portland, Oregon. He died 16 May 1923 by "Accidental drowning by falling of log boom", Willbridge Terminal, Willamette River. He had lived at 484 Liberty St., Portland, Oregon. Place of Burial: Oregon City Cem. This was just 3+ months after Oren's birth.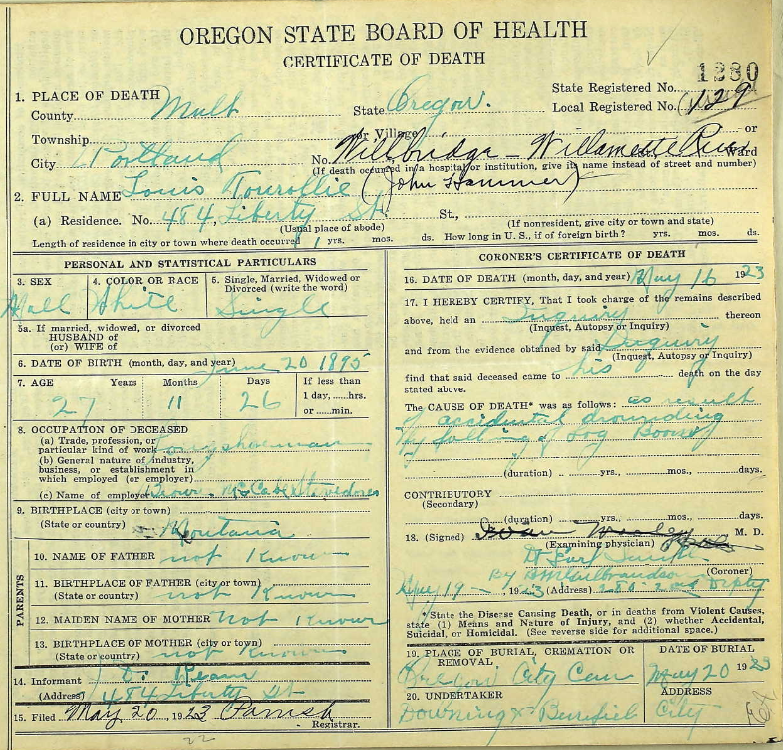 My husband's uncle Brad, consented to doing a y-DNA test for me. I got the results in January 2021. In order to narrow the search to a particular sibling, I had been hoping to get a surname match with a Rand, Lundy or Smalley (the husband of Alice's sister Nellie), but the only matches he got were very distant. the closest ones at the highest level were a Norwegian father and son. This match likely goes back 12-20 generations, long before the adoption of surnames. :(—With the recent connection confirmed, perhaps the Tourailles were descended from Vikings??