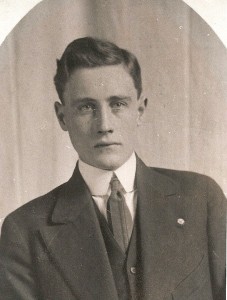 This biography was created using the old "Story View" from ancestry.com:
Walter Lemon Clifford (1897-1986)
Also, here is an excerpted transcript I prepared of an interview my dad did of my grandfather. It tells about the time he worked building airplanes for Alexander Aircraft in Colorado. I submitted copies of these to the archives at the Museum of Flight in Seattle and the Wings Over the Rockies Air & Space Museum.
Walter L. Clifford at Alexander Aircraft Company–transcript
Walter L. Clifford at Alexander Aircraft Company–Audio (This is the excerpt for the transcript. I will work at getting the full interview in a form that I can upload.)
I now have the full audio of the interview my dad, Dean Kelley did of my grandfather, Walter L. Clifford:
(These are fairly large PDF files. they may take a little while to load, depending on the speed of your connection.)