Occupations of Dana's Ancestors
Womens' occupations were usually listed as "None," "at home" or "Keeping House" on census records. I include them only if another occupation is known for them other than homemaking —Homemaking usually included child-rearing, housework, food production & preservation, etc.—still important occupations!
For the men and some of the women, I will list their primary occupation(s) first and then other jobs they may have had.
PARENTS
Dean Darrell Kelley (working from 1945-1986)

Pharmaceutical Representative. (A.H. Robins District Manager & Ciba)
Merchandising/Marketing Manager (Swinson Food Products & Gregg Foods.)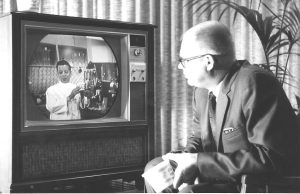 Order filler for Safeway Creamery/Cheese Department.
Assembly line worker for Delco Battery.
Skip Tracer for Pacific Finance Co.
Worked for Square D, an electric component manufacturing company.
"Oiler" for the Department of Navy.
Worked for Royal Heaters, Inc.

Sergeant Dean Kelley

Army (promoted to Sergeant Major) in the Korean War.

Worked for the Hoover Company.
Worked for Avery Adhesive Label, Arrowhead Rubber Co., Electroweld Steel Corp.
Worked for Swift & Company packing house & lard refinery.
Worked for the Commodore Hotel.
Worked for ALCOA.
Worked for Zellerbach Paper Co., Drapery Hardware Co., United States Marine Commission.
Worked for Universal Mfg. Co. rebuilding Ford Engines, Drove a Pepsi-Cola Truck.
Merchant Marines "Utility"- Cook.

In the Merchant Marines.
Doretta Rose Clifford Kelley (working from 1952-1980's)
Secretary (Education Dept. St. Joseph's Hospital, Pacific Wood Treating Co., Monsanto and Mobay Chemical Cos., Merle J. Grindle (Private Investigator of missing heirs).
Stenographer.

GRANDPARENTS
William Walter Kelley (working from 1907-1950's)
Oil Station attendant/ Auto Mechanic.

Oil Station Attendant at Hermecke's Station

Helped manage boarding (rooming), apartment houses, motel, & cafe.
Drayman/Truck Driver.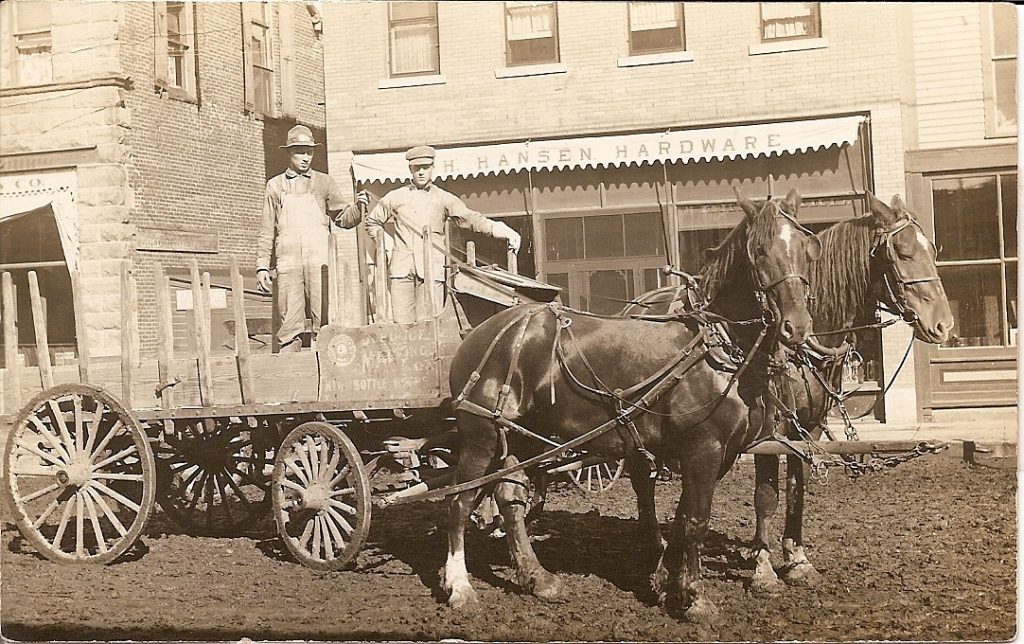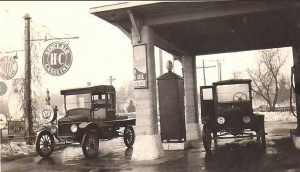 Worked for Drapery Hardware Co.
Hired Farm Hand.
Singer and Salesman in Dr. Linden's Medicine Show.
Marie Reimers Kelley (working from 1910-1945)
Managed boarding (rooming), apartment houses, motel, & cafe.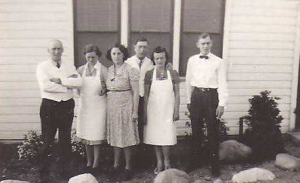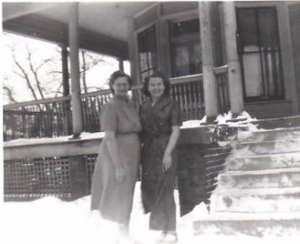 Cook & Head Cook in restaurants & cafes.
Waitress.
Walter Lemon Clifford (working from 1911-1965+)
Woodworker/Cabinet Maker. Hallack & Howard Planing Mill, Angelus Furniture & Self-employed. (Learned his trade at Uhrich Revolving Door Factory.)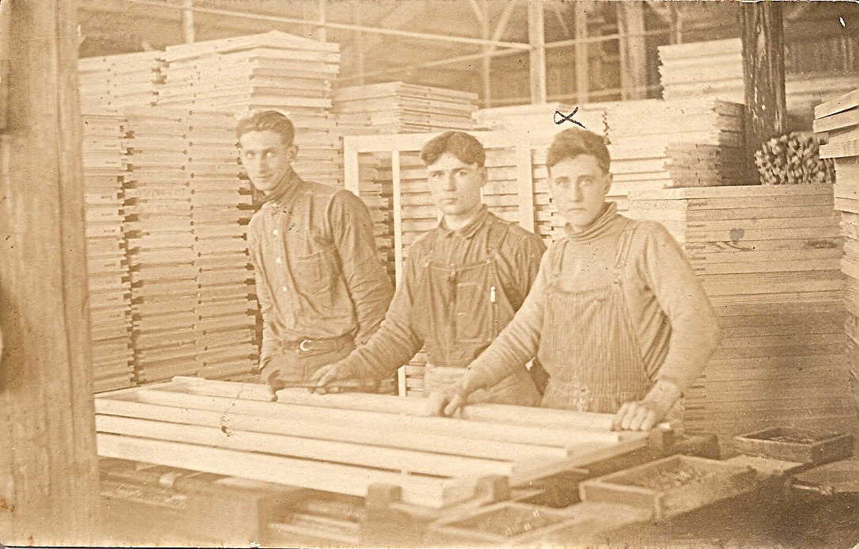 Foreman, Morris Furniture Manufacturing.
Manufacture of radio cabinets for California Coast & Hoffmann & Sears.
Restaurant owner.
Woodworker/woodshop manager for Alexander Aircraft Company.

Machinist.
Co-owner," Pig Stand" Restaurant.
Worked for Empire Gas Co.
Street Car Conductor.
Work building sugar beet refinery & in the sugar beet fields.
Worked for Petroleum Products.
Alice Christina Cornett Clifford (working from 1922-1975)
Precinct Officer, Inspector. Enchantment Precinct. (Volunteer)
Worked at Mrs. Russell's Candy Factory.
Cooked at "Pig Stand" Restaurant.
Telephone Operator, SW Bell Tel. Co.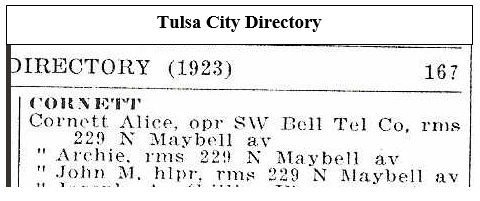 Mother's Helper for Rose McKnight.
GREAT-GRANDPARENTS
Andrew Alfred Kelley (working from 1870-1910+)
Eilert Auen hires his son-in-law to build his house. 17 Apr 1896, Carroll, Iowa

Carpenter.

Teacher.
Laborer (Lamb's Mill & lumberyards?).
Poet.
Claus Johann Reimers (working from bef. 1883-1930)
Bar Keeper, Lodging House & Lunch Room Proprietor.
Farmer.
Miller.
Carpenter.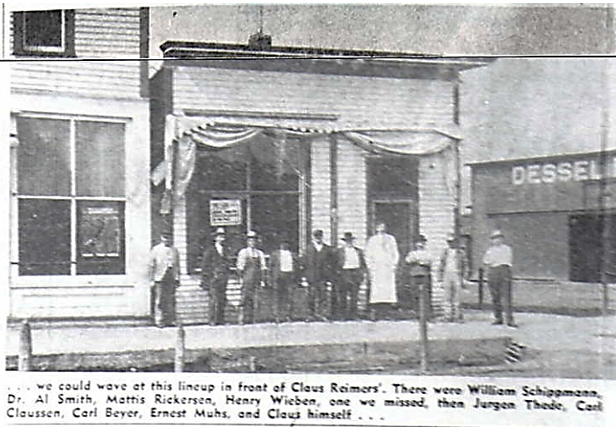 Marie Brocksen Reimers (only listed occupation in 1910)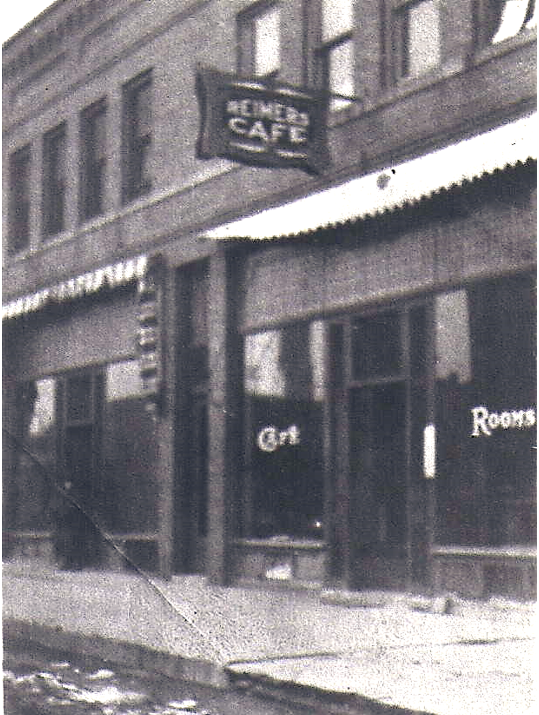 Charles Lemon Clifford (working from 1880-1930)
The Chanute Daily Tribune – 17 Aug 1907

Farmer.

Laborer in Casting, Cement Factory.

1910 Independence, Kansas
Travelling Suit Salesman.
Sarah Jane Verbryck Clifford (work listed in 1910 & 1920)
Housekeeper or Servant for private families.
John M. Cornett (working from bef. 1900- 1940)
Farmer/Farm Laborer (Tenant).
Laborer, linseed oil mill, oil supply company.
Helper.
2nd GREAT-GRANDPARENTS
Michael Britt Kelley (working from bef. 1847-1885)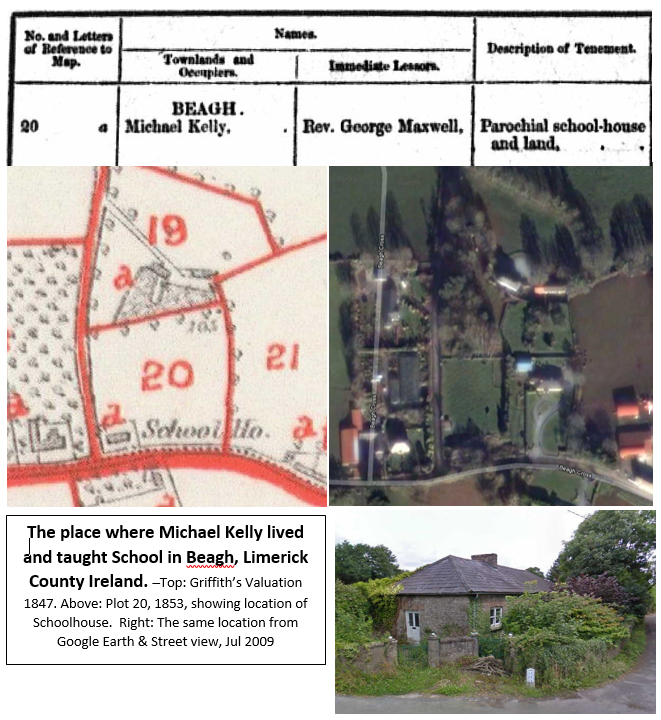 Eilert Janssen Auen (working from bef. 1860-1900)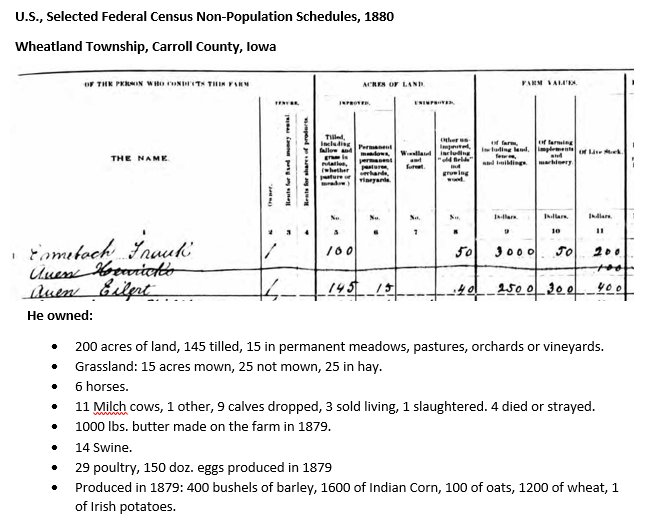 Hans Hinrich Reimers
Dienstknecht – Servant (Farm laborer) (1857)
Arbeitsmannes – Workman (1858)
Peter Thomas Brocksen
Landmann- Farmer
Dienstknecht – Servant (Farm laborer) (1859)
Arbeiter – Worker (1890)
William Clifford (working bef. 1832-1877)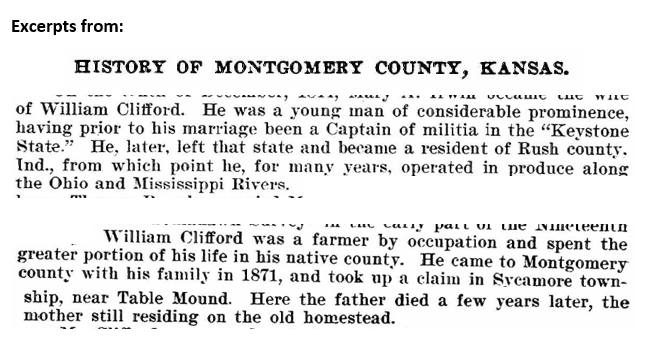 Farmer—(Inherited 50 acres from his father, later sold & moved to Indiana then to Kansas.)
Captain in Pennsylvania militia
Mary Ann Irwin Clifford

Richard S. Verbryck (working bef. 1860-1880+)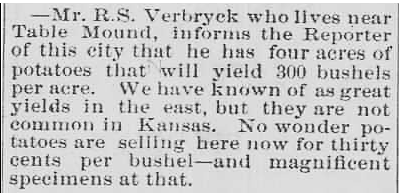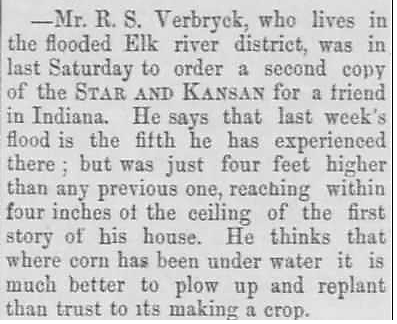 Private in Indiana Infantry (1863 -12 days) Civil War
Hezekiah Russell Cornett (working bef. 1860-1891)
Farmer
Private in Virginia Infantry (1863-25 days, deserted)

Elvira Matilda Stamper Cornett
James Woodrum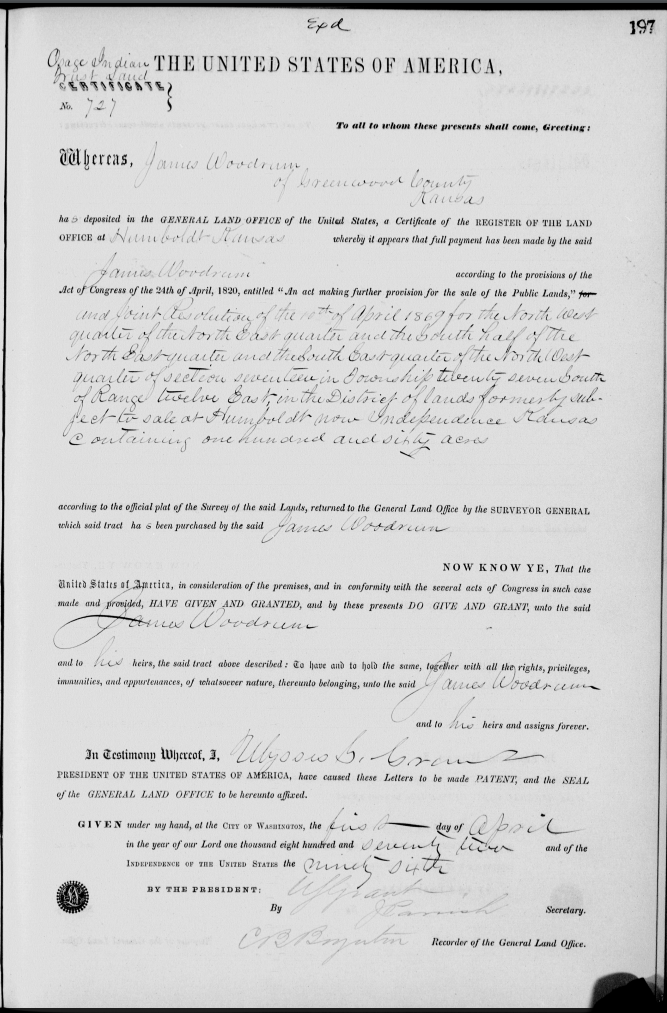 3rd GREAT-GRANDPARENTS
Andrew Kelly
Probably a farmer—He leased and sublet land. (1829 & 1853)
Victualler-usually the keeper of a restaurant or tavern (If Death Certificate is our Andrew Kelly). (1866)
Jan Hinderks Auen
Meine Gerds DeBuhr
Schiffzimmermann, Shipwright or Ships Carpenter. (1840 & 1860)
Claus Hansen Reimers
Arbeitsmann (Workman) (1832)
Johann Jacob Arps
Gesell (Journeyman) (1805)
Johann Peter Brockes
Eggert Sammann
Thomas Clifford
Farmer—He had a cabin, still house & stable in 1798.
He bequeathed about 100 acres of his farm in his will divided variously to his children, 1842
Robert Irwin
Shoemaker (occupation listed on his death certificate, 1858).
William Verbryck
James Hildebrand
Farmer, son of a Mennonite, received a land grant in Shelby County, Indiana from President Andrew Jackson, 1834.
Alfred Alexander Cornutt
Farmer (1850-1900)
Private in the Virginia infantry, Civil War 1863
Ephriam William Stamper
Farmer /Farm Laborer (1850-1870)
Archibald Woodrum
Sarah Johnston Woodrum
John Baugher
Farmer (1850-1860) Purchased public lands, in Illinois 1838 & 1839), signed by President Martin VanBuren.